We know the basics of Agile. What happens when a large enterprise wants to transition to Agile? How does the effort look like? What needs to happen? Can it succeed? This session will be about Agile Transformation experiences at several Enterprises, and the lessons learned.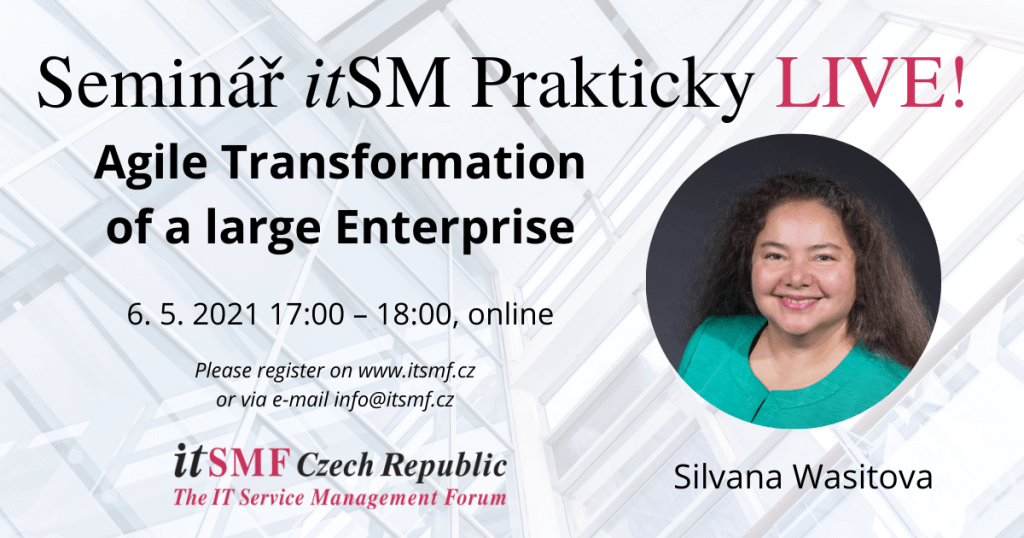 Dátum a čas: 06.05.2021 17:00 – 18:00
Miesto: webinár
Prezentujúci: Silvana Wasitova is an Enterprise Agile Coach who started her Agile journey in 2005, and has led and coached teams in delivering mission-critical software development projects at large multinational corporations in Canada, USA, Germany, UK, France and Switzerland, Austria and Czech Republic, among others at Yahoo! Inc, Microsoft, Skype, Nestle, Ceska Sporitelna. Silvana started her career as a software developer, then became classical Project Manager (PMP), ScrumMaster (CSM, CSP) and is now an Enterprise Agile Coach.
Pozvánka s odkazom na webinár vám príde po registrácii od itSMF Czech Republic. V prípade, že email po registrácii neobdržíte, kontaktujte nás prosím prostredníctvom kontaktného formulára na stránke.