1 udalosť,
We'll be hosting a conversation about "Establishing Internal Service Level Agreements" and what so many internal IT organizations shy away form them. The objective of the conversation is to help the participants understand the benefits of Service Level Agreements, things that are needed to establish them, and things to avoid.
1 udalosť,

itSMF USA is organizing a webinar on the topic of Service Management Office: What is an SMO?Does my organization need an SMO?SMO and Virtual workThe Value of an SMO
2 udalosti,
Určite poznáte obrázok ako zákazníci definujú svoje požiadavky, ako sú pochopené a zaznamenané v rámci projektu, ako ich navrhne systémový analytik, programátor napíše, biznis analytik nastaví očakávania zákazníka, čo nakoniec zákazník dostane a čo pri tom v skutočnosti potrebuje. Stáva sa Vám to často v bežnej praxi? OMNICOM pre Vás pripravil nový kurz BSC Requirements engineering, ktorý Vám predstavíme...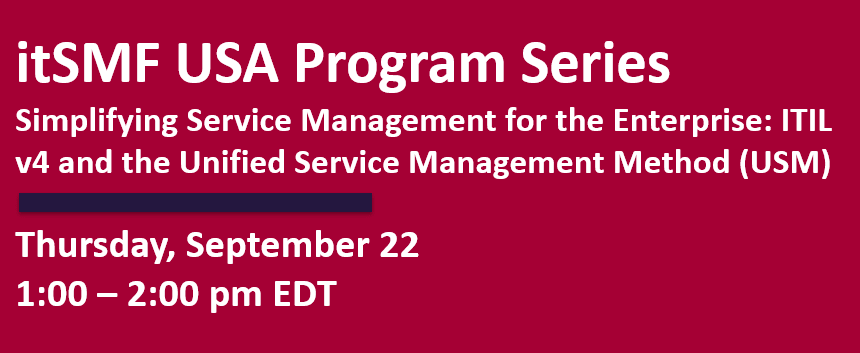 On September 22, John Worthington will introduce us to some new thinking coming out of the Netherlands. The Unified Service Management Method (USM) provides a simple, sustainable method for establishing a service management system that is consistent with and complimentary to existing practices. itSMF members will get a coupon code...
1 udalosť,
Pozývame vás na webinár, ktorý bude venovaný témam reportingu a business intelligence. V dvoch praktických prezentáciách vám prednášajúci priblížia ich autentické skúsenosti s návrhom a implementáciou reportingových a business intelligence riešení.